We can never know where and when we will meet our best friend. Yet, when this happens to our pets, it is adorable, to say at least.
When a cute Siamese named Louis, started following his owner, Emma Massingale, to the stable, little did they know that the kitten will become one of her horses' best friend.
Emma is a professional horse trainer based in North Devon, England. She has developed a language that is well understood by horses, so she manages to communicate with herds of horses, and instruct them to carry out complex exercises and maneuvers as a team.
She explains that she has had horses all her life, and started riding before she could walk. Emma adds:
"Gaining a horse's trust, respect and watching the relationship between horse and owner grow in confidence, seems almost magical at times."
She met the cat at her friend's and fell in love with him. As his owner was going through a separation and could no longer keep the cat, Emma decided to take him.
As soon as Louis moves into her home, she found he was quite a character.
"He started off just following me to the stable and walking along the walls or fences nudging the horses with his head. Then he started to jump on their backs and sit there or jump on and then off the other side to get somewhere."
The horses liked Louis, and always nuzzle him back. Yet, Louis especially enjoys the time spent with the calm five-year-old Connemara Pony, named Comet.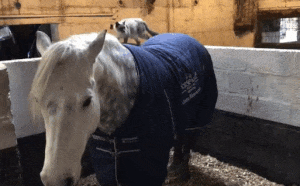 Emma said:
"It all started when I was riding Comet and I would just tap my leg and Louis would jump on. Now all I have to do is tap Comet's back and Louis is straight there. He doesn't need any more encouragement than that. 
Louis rides whenever he likes really, sometimes just in the area sometimes he comes out for a longer wander. He is a bit of a fair weather rider though as doesn't like riding in the rain."
The two friends enjoy the time they spend together and often go to explore the surrounding area.
"Comet and Louis seem to be a good combo. If he wants the horse to stop he bites the pony's mane. It's crazy but funny to watch. If Louis gets bored he just jumps off but he seems to love it as he stays up there for ages.
Sometimes we ride together in the arena, and other times out and about. And sometimes Louis and his brother Remi will ride together."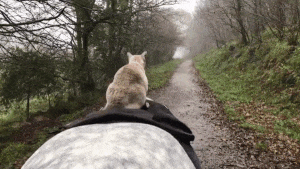 Watch the footage of these adorable friends leisurely strolling through woodland around 10 miles from Emma's home in Holsworthy, North Devon:
Sources:
www.lovemeow.com
www.emmamassingale.com
honesttopaws.com
metro.co.uk